Dunia
| | | | |
| --- | --- | --- | --- |
| BA strikes hit third day as row continues | | | |
Tuesday, 30 March 2010
Source: IBTimes
British Airways' services entered their third day of disruption today as Unite's strike continued amidst claims from both sides of victory.
The airline said that the number of cabin crew turning up for work were at the levels needed to operate its publishing schedule.
However, the BBC reporting at the scene said that over 100 flights had been cancelled on Saturday.
Passenger Jill Kelly interviewed by the BBC told her story:
"We were supposed to be flying to Vancouver today, to go skiing, but we found out on Wednesday morning that our flight to Vancouver had been cancelled and BA had put us on a flight to Calgary, which of course is hundreds of miles from where we want to be" she said.
"To get us to where we want to be, we're gonna have to stay overnight in Calgary, pay for that hotel and then we're gonna have to have an internal flight to Vancouver the following morning which is at a total cost of a £1,000 which we have already had to pay..." she said. "And we'll lose a day of our holiday"
BA have not compensated her for this.
In an online video message posted on BA's website. boss Willie Walsh said BA was doing "everything possible" and was "absolutely committed to resolving this dispute".
Last Updated ( Tuesday, 30 March 2010 )
| | | | |
| --- | --- | --- | --- |
| Trash collectors practice for strike! | | | |
Thursday, 25 March 2010
Source: MyNorthWest.org

Your garbage could begin piling up at the curb if trash collectors can't agree on a new contract.
Teamsters, Waste Management, and Allied Waste have been trying to work out a deal, but talks are expected to break down.
"The strike threat is certainly real," said one collector walking in an informational picket line outside Waste Management headquarters in South Seattle early Thursday morning.
Pay cuts and safety for employees are the two main issues. Drivers say they want scales installed on the trucks to help them determine the truck's weight. On a rainy day, an overweight truck can make it difficult to stop.
The current contract runs through March 31, but union members plan to take a strike authorization vote by Sunday.
Jackie Lange, Director of Sustainability for Waste Management of Oregon, is optimistic there will be an agreement soon. "We want to put it all on the table and come back with an agreement that's fair and balanced."
About 700 garbage haulers work in King and parts of south Snohomish County. The median salary for a driver is about $77,000.
| | | | |
| --- | --- | --- | --- |
| Network Rail and RMT talk in bid to avert rail strike | | | |
Thursday, 25 March 2010
Last-ditch talks are being held in a bid to avert the first national rail strike since 1994, which could cause travel disruption over Easter.
The RMT union and Network Rail are meeting at conciliation service Acas.
Both signal workers and maintenance staff belonging to the RMT have voted in favour of walkouts in a row over job cuts and working conditions.
Infrastructure operator Network Rail says most services would be cancelled if a strike was announced.
After the meeting ends, the RMT National Executive will meet to hear from their negotiators and decide what to do.
The union will then issue a statement at about 1630 GMT. It says options for action include a strike and an overtime ban.
Network Rail said talks held on Wednesday had yielded "progress".
Baca Lagi...
| | | | |
| --- | --- | --- | --- |
| British airways strike continues! | | | |
Tuesday, 23 March 2010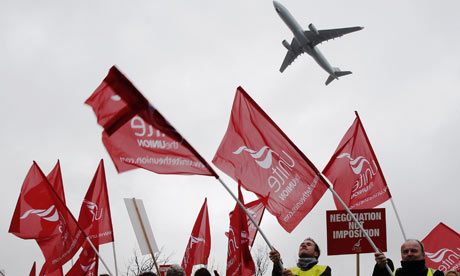 March 23, 2010 (Pen Men at Work): Passengers experience great inconvenience as British airways strike continues for the third day with seemingly no resolution between workers and carriers. Some short distance flight did take off but the strike seems to have grounded thousands of other flight. More than half of its 1,950 flights normal flight scheduled have been canceled since the strike.
British airways which is the flag carrier and the largest airline based on fleet size, international flights and international destinations in UK has its main hub at London Heathrow Airport .According to a BBC news report, the strike action is the latest episode in a long-running dispute over changes to pay and conditions by BA that union Unite claims are being unfairly imposed on its members.
There were signs that a few personnel are going back to work. However, the airline and the union were no closer to a resolution over a dispute for pay and conditions. Unions have reportedly rejected a fresh offer recently put forward by BA but the union was still willing to negotiate.
Customers have been advised to check ba.com regularly to see whether their flight is still operating before leaving for airport. They are being updated about the status of their flight by text messages and emails. BA has agreed with 40 other carriers that customers can be re-booked free of charge on to their flights during the actual strike period if they had been due to travel on a cancelled BA service.
Despite all these majors if the dispute is not resolved soon passengers will be facing more difficulties as workers will be striking again for four days, beginning Saturday.
Last Updated ( Tuesday, 23 March 2010 )
| | | | |
| --- | --- | --- | --- |
| British Airways strike impact still up in the air | | | |
Saturday, 20 March 2010
British Airways cabin crew have started a three-day strike that is set cause severe disruption for thousands of passengers.
The BBC's Chris Rogers was on a BA flight from Heathrow to Amsterdam on Saturday morning.
Some BA cabin crew have decided to work - but many will not
Terminal 5 was teeming with stewards acting as guides for thousands of BA staff who have volunteered to replace striking cabin crew, the stewards were there to guide them though their first day on the job.
The airline has assured passengers the volunteers have been fully trained for the job.
I was a passenger on one of just a few scheduled flights with BA cabin crew who did turn up for work.
The three-man team told me they decided to cross the picket line and were allocated on the flight to Amsterdam.
One worker - who didn't wished to be named - said he may regret it "but he and other colleagues were thinking about the long term effects the strike would have on the company".
Baca Lagi...
<< Start
< Previous
1
2
3
4
Next >
End >>
Results 10 - 18 of 31